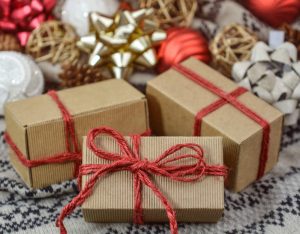 My mother made sure to give us a great Christmas – lots of gifts and lots of delicious food – but what made it special is that she put a lot of thought into each gift. She found what we asked for and if she couldn't, she found something she thought might be comparable. She listened to our wants and she followed through. She enjoyed giving. Not to be left out, my father bought few gifts. He worked overtime during the holiday season, starting in mid-November, going through the end of December at least. He provided the funds for my mother's extravagant shopping. The few times my father picked out a gift for us is still very special to me and I remember each gift as if it was a diamond ring.
I was brought up with the Spirit of Giving and I have grasped onto that in my own life as an adult. Giving when someone is not expecting it or giving anonymously is especially fun. When we listen to people's needs or wants is when it means the most. A friend once called me to chat and in the conversation she complained that she was lonely, fat and depressed. Later that day, I brought her a Slim Fast drink, a $5 bill for gas money to visit me, and a hug. It made her laugh and if nothing else, it showed her I was listening and I cared. I stayed for a good hour and chatted which probably meant even more.
Christmas is a time to remind each of us of a special gift that was given to us – a baby named Jesus – who was born to be our Savior.  Non-Christians have traditionally grasped the meaning of giving and celebrate the holidays with joy.  It's a happy time for all.
Or is it? As an adoptive mom of several traumatized children, Christmas brings up- well, everything. It can cause confusion, anger, depression, random memories and feelings of unworthiness. Holidays are a blatant reminder of what they've lost. I'm sure all of us can understand that to some point – especially those of us who have lost a close family member, a spouse, a neighbor,…..  Christmas can be a constant reminder of those people we miss dearly.
As we become aware of how the holidays can affect our adopted children and those around us who have lost someone special, we can be more attentive to their needs and wants. They need to know that we remember those people, we recognize the hardship and we care. Be creative in ways that you might show it. In the texting and emailing day in age, we need to perhaps back off from the technology and show true love in a personal way – a visit, a hug, a smile, holding the door for someone at the store, a phone call, a letter or card in the mail. Our time is the best thing we can give someone to show them we care because they know how much we value our time and how busy we are.
Be careful not to chase the American dream so intensely that you become numb. I had a co-worker whom I tried to befriend but the more I got to know her, the more I saw her running frantically through life, never having time to sit and process what was going on. Much of her 'work' was just being busy, not productive and not helpful. Sweeping your feelings under the rug only creates a big lump that becomes a hindrance for everyone else as well as yourself. Feel these feelings. Don't run from them, using busy-ness as a hide-out. Heal from your own hurts and embrace those around you who need to heal too.
Smile in the long lines at the Post Office, smile in the longer lines at the store, and smile at the sold out concert you planned to attend. Turn to the person behind you and say a kind word. Ask them how their holiday is going? Ask them their favorite part of the holidays? Relieve stress by laughing together about the busy-ness of the season. Be present. Be a gift to someone who may need your smile or banter.
At times, I've been known to be a humbug when it comes to holidays because I believe that the Christmas Spirit and kindness should be all year, not just one day a year. Sometimes it's the only time we hear from the ones we care about. That should not be the case. We need each other in this unpredictable, difficult life. We need each other to cry with us, laugh with us and be with us. I don't need an emoji. I need you!
What was your best Christmas Ever ?  I would love to hear from you.
P.S. I have learned that the best gift you can give an author is a Review – so feel free to leave a Review of either of my books at the end of this Website and/or Goodreads and/or Amazon. Leave one on each site and you will hold a special place in an author's heart. (smiley face)